On the Road with "Scout: A Cirque Scary-Tale" in Cotuit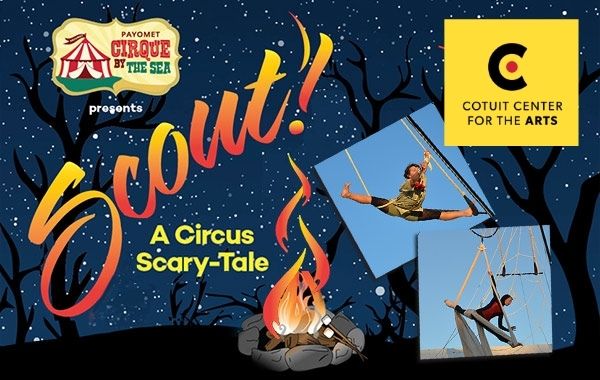 Payomet's Cirque by the Sea team of professional circus ghouls are going on the road to Cotuit Center for the Arts to perform their latest original production Scout: A Cirque Scary-Tale. Join us for some post-halloween, family friendly, safe LIVE entertainment on Saturday, November 7 and Sunday, November 8!

Starring artists Teddy Ment, Eleanor Getz, Trevor Pearson and Georgie Johnson, this circus theatre show features a group of young scouts on a camping trip who gather round the fire to tell ghost stories. Unnerved after the stories, they try and sleep– but one wakes in the night to mysterious sounds in the woods. She investigates and the stories come to life around her in the form of circus acts.

Children: $10 per person
Adults: $20 per person // $5 discount for CCftA Members

These performances will take place outdoors in the back parking lot of Cotuit Center for the Arts. Social distancing and other safety protocols will be strictly enforced. Masks required. The Center will provide seats, but audience members may want to bring extra sweatshirts and blankets! Directions here.