Dom Flemons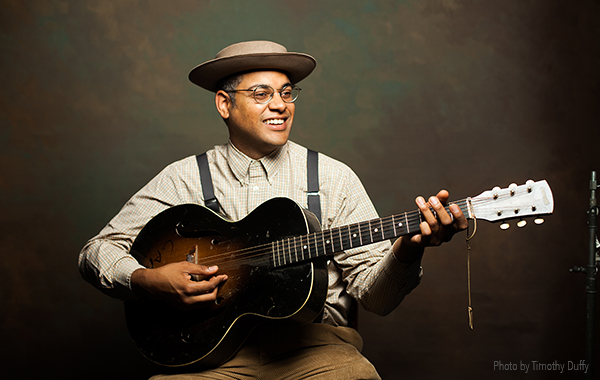 After postponing Dom Flemmons' Music-in-the-Schools residency program last year because of COVID, we feel incredibly privileged to welcome him back into our world this summer on Saturday, July 31!
GRAMMY award winner and two-time Emmy nominee Dom Flemons is known as "The American Songster" since his repertoire of music covers over 100 years of early American popular music. As a founding member of the "Carolina Chocolate Drops", Dom Flemons spent nine years traveling the world singing, playing and telling the stories behind indigenous American music. Flemons is a songwriter, multi-instrumentalist, producer, actor, music scholar, historian, and record collector. He is considered an expert player on the banjo, guitar, harmonica, jug, percussion, quills, fife and rhythm bones– and he's bringing it all to share with us on the Cape!
In 2018, Flemons released an album titled "Dom Flemons Presents Black Cowboys" on GRAMMY Award-winning record label Smithsonian Folkways and received a GRAMMY Nomination for "Best Folk Album" at the 61st GRAMMY Awards. This recording is part of the African American Legacy Recordings series, co-produced with the Smithsonian National Museum of African American History and Culture in Washington, D.C.
Members: $27 // Public: $30