Nuevos Aires Festival: New Music from Argentina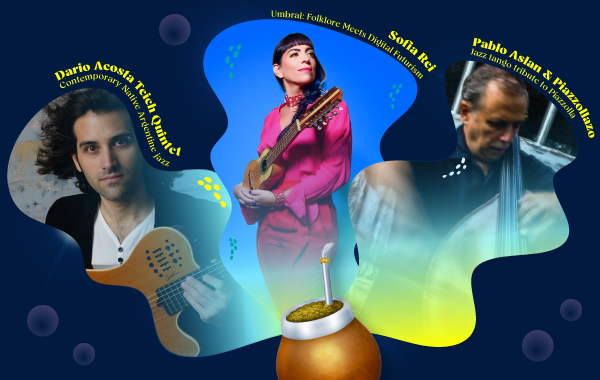 EVENT GUIDELINES:
In order to keep these events coming, we ask for everyone's co-operation to follow the guidelines below to protect your safety, other patrons, and the safety of our staff. Please read these over before you buy your tickets.
All tickets are general admission.
All tickets are 'Will Call'. You do not need a mobile or printed ticket. Your name will be on a list at the venue and will be checked by a Payomet volunteer or staff member.
In the event of rain, we may schedule a rain date. Unfortunately, tickets are non-refundable. If you cannot attend a show on the rain date, you should sell or give your ticket to someone else.
Patron Safety:
Concert attendees must be fully vaccinated against Covid-19 or present a negative Covid test taken within 72 hours of the event.
Non-vaccinated patrons are advised to wear a mask.
No smoking is permitted on-site.
No pets are permitted on-site.
Nuevos Aires Festival: New Music from Argentina is all about the here and now of contemporary works by three of the most dynamic Argentine artists in the New York music scene. Come out and enjoy an afternoon of South American culture on Sunday, September 12 as we take a deep dive into the work of both preeminent and emerging composers, joined by award-winning world class musicians.

The celebration will kick off at 4:00pm** with an agasajo welcome reception with the artists and Argentinian refreshments, and the concert will begin at 5:00pm.

Featured artists include Pablo Aslan & Piazzollazo; Sofia Rei performing her new album Umbral: Folklore Meets Digital Futurism; and the Dario Acosta Teich Quintet performing contemporary native Argentine jazz with special guest Eleanor Dubinsky.

This festival is to give voice to new sounds and inspirations from the South while paying homage to the great Astor Piazzolla, Mercedes Sosa (La Negra) and undersung folk artists from small rural areas.

Members: $33-$47 // Public: $35-$50

Part of the Open Arms global concert series, Nuevos Aires also furthers Payomet's mission for meaningful engagement between audiences and artists. Each performance will include an element of cultural education including the origin and evolution of Tango music, the indigenous roots of Argentine folk music, and a behind-the-scenes demonstration of electronic music composition.

**All ticket holders are invited to attend the 4:00pm welcome reception and the concert will begin at 5:00pm.