Blind Boys of Alabama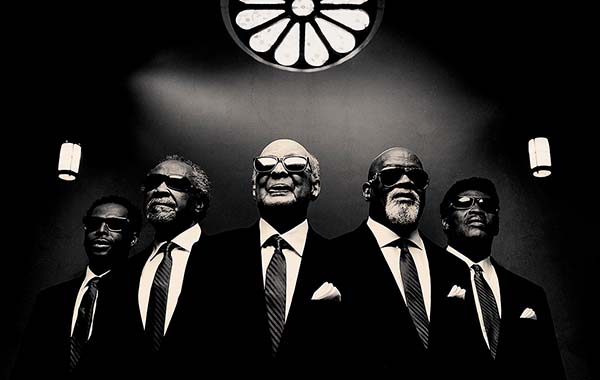 CONCERT GUIDELINES:
By purchasing a ticket, you agree to comply with all health and safety protocols that are in place at the time of the performance. Please check the policies and guidelines prior to your performance for the most up-to-date information.

All tickets are 'Will Call'. You do not need a mobile or printed ticket. Your name will be on a list at the venue and will be checked by a Payomet volunteer or staff member. Doors will open 1 hour prior to the event.

Note that all tickets are 'General Admission' meaning you are guaranteed a seat within your selected section, however not a specific seat. General Admission seats are first some, first served. Please arrive no earlier than 1 hour before the show.

Tickets are non-refundable.

No smoking is permitted on-site.
"They came to epitomize what is known as jubilee singing, a livelier breed of gospel music... they made it zestier still by adding jazz and blues idioms and turning up the volume, creating a sound… like the rock 'n' roll that grew out of it." – The New York Times

The Blind Boys of Alabama are recognized worldwide as living legends of gospel music, and we are proud to welcome them back to the tent this summer on Saturday, August 20.

Celebrated by The National Endowment for the Arts (NEA) and the Recording Academy with Lifetime Achievement Awards, inducted into the Gospel Music Hall of Fame, and winners of five Grammy® Awards, they have attained the highest levels of achievement in a career that spans over 70 years.

The Blind Boys of Alabama have the rare distinction of being recognized around the world as both living legends and modern-day innovators. They are not just gospel singers borrowing from old traditions; the group helped to define those traditions in 20th century and almost single-handedly created a new gospel sound for the 21st. Since the original members first sang together as kids at the Alabama Institute for the Negro Blind in the late 1930s (including Jimmy Carter, who leads the group today), the band has persevered through seven decades to become one of the most recognized and decorated roots music groups in the world.

The Blind Boys are known for crossing multiple musical boundaries with their remarkable interpretations of everything from traditional gospel favorites to contemporary spiritual material by songwriters such as Eric Clapton, Prince and Tom Waits. They have appeared on recordings with many artists, including Lou Reed, Peter Gabriel, Bonnie Raitt, Willie Nelson, Aaron Neville, Susan Tedeschi, Ben Harper, Patty Griffin and Taj Mahal. The Blind Boys of Alabama have also appeared on The Tonight Show, Late Night, The Grammy® Awards, 60 Minutes, The Colbert Report and many other television shows.

Tickets: $28-$45 // Members: $25-$42