DakhaBrakha 2022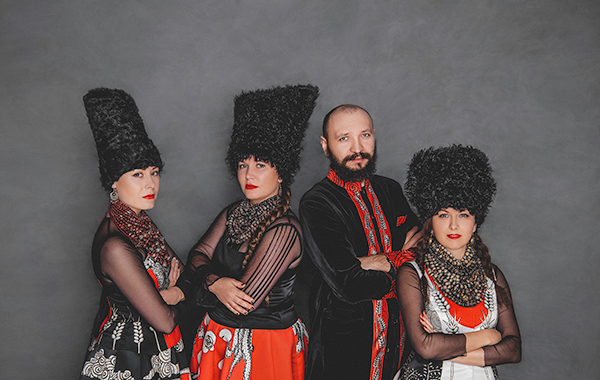 CONCERT GUIDELINES:
By purchasing a ticket, you agree to comply with all health and safety protocols that are in place at the time of the performance. Please check the policies and guidelines prior to your performance for the most up-to-date information.

All tickets are 'Will Call'. You do not need a mobile or printed ticket. Your name will be on a list at the venue and will be checked by a Payomet volunteer or staff member. Doors will open 1 hour prior to the event.

Note that all tickets are 'General Admission' meaning you are guaranteed a seat within your selected section, however not a specific seat. General Admission seats are first some, first served. Please arrive no earlier than 1 hour before the show.

Tickets are non-refundable.

No smoking is permitted on-site.
"Ukrainian folkdrone Björkpunk quartet Dakhabrakha went into Bonnaroo as unknowns but ended up with one of the most receptive crowds of the weekend. They got cheers for mournful accordion and apocalyptic cello sawing. Animal noises and bird whistles and howls got the audience to return favor, turning the tent into a happy menagerie." — Rolling Stone
"The group mixes everything from punk-pop to traditional Ukrainian songs in cool yet beguiling textures, often with the close harmonies usually associated with Balkan music. But it's really the live shows that take DakhaBrakha beyond mere curiosity to utter brilliance." — NPR
Eclectic Ukranian folk quartet DakhaBrakha will be spreading peace under the tent on Tuesday, August 2 for a night of unique sounds from around the world.
DakhaBrakha is world music quartet from Kyiv, Ukraine. Reflecting fundamental elements of sound and soul, Ukrainian "ethno-chaos" band DakhaBrakha, create a world of unexpected new music. The name DakhaBrakha is original, outstanding and authentic at the same time. It means "give/take" in the old Ukrainian language. Accompanied by Indian, Arabic, African, Russian and Australian traditional instrumentation, the quartet's astonishingly powerful and uncompromising vocal range creates a trans-national sound rooted in Ukrainian culture.
Tickets: $40-$75 // Members: $35-$70