Once in a Lifetime: A Cocktail Party to Benefit Payomet ft. Start Making Sense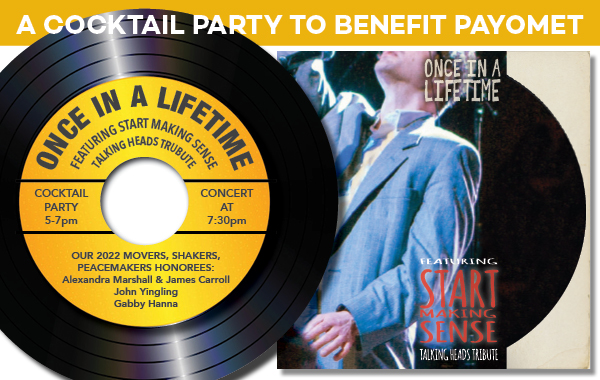 For over 20 years, Payomet Performing Arts Center has been dedicated to bringing people together to share a passion for music and an appreciation for extraordinary performances– and this special evening will be no exception.
Come celebrate on Sunday, August 7 at a Once in a Lifetime party to benefit Payomet! This midsummer soiree will start with locally sourced cocktails and apps and continue into the evening with a performance by Start Making Sense: Talking Heads Tribute. Some have said this is the closest thing you'll get to seeing the Talking Heads again, giving you a "once in a lifetime experience"– so come dance the night away and enjoy some of your favorite classic tracks from the 80's, all while supporting Payomet.
This party is also our chance to acknowledge and celebrate --
Movers, Shakers & Peacemakers
-- who contribute to the rich fabric of our outer Cape community
. Please join us in honoring Alexandra Marshall & James Carroll, John Yingling and Gabby Hanna.
When: Sunday, August 7, 5:00-7:00pm // Start Making Sense: Talking Heads Tribute concert begins at 7:30pm
Where: Payomet Performing Arts Center, under the Music Tent
Tickets: $175/seat – $800/high top table of 4 – $2,000/table of 10