Fall Equinox Party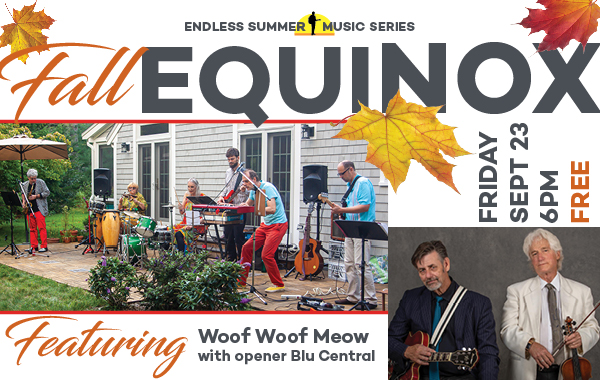 CONCERT GUIDELINES:
By purchasing a ticket, you agree to comply with all health and safety protocols that are in place at the time of the performance. Please check the policies and guidelines prior to your performance for the most up-to-date information.

All tickets are 'Will Call'. You do not need a mobile or printed ticket. Your name will be on a list at the venue and will be checked by a Payomet volunteer or staff member. Doors will open 1 hour prior to the event.

Note that all tickets are 'General Admission' meaning you are guaranteed a seat within your selected section, however not a specific seat. General Admission seats are first some, first served. Please arrive no earlier than 1 hour before the show.

Tickets are non-refundable.

No smoking is permitted on-site.
FREE SHOW!

We're welcoming the official shift of seasons with a Fall Equinox Party at the tent coming Friday, September 23, hosted by local jammers Woof Woof Meow with opening support from Blu Central.
Formed to inspire folks on Cape Cod to celebrate the Earth by dancing, Woof Woof Meow plays a mix of original Ska, Funk, Reggae, and New Wave, plus covers by Prince, Bob Marley, Fela Kuti, and The B-52's. They are Michael Holt (singing and keyboards), Lisa Brown (singing and percussion), Rikki Bates (drums),Trevor Pearson (bass), Ken Field (sax and flute), and sometimes Mark Van Bork (guitar).
Frank Poranski (guitar and vocals) and Lary Chaplan (violin) make up Blu Central– and they have been performing together for over eight years. They offer an eclectic mix of genres that includes standards, rock and roll, country, jazz, and classical music. They perform a mix of originals and covers, a varied list that includes Cole Porter, Hank Williams, Burt Bacharach, the Beatles, Britney Spears, Tom Waits, and Rosini.
Tickets: FREE