Endless Summer: Season Pass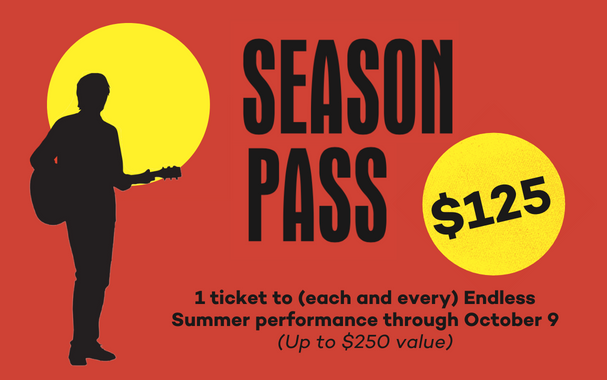 CONCERT GUIDELINES:
By purchasing a pass, you agree to comply with all health and safety protocols that are in place at the time of the performance. Please check the policies and guidelines prior to your performance for the most up-to-date information.

All tickets are 'Will Call'. You do not need a mobile or printed ticket. Your name will be on a list at the venue and will be checked by a Payomet volunteer or staff member. Doors will open 1 hour prior to the event.

Passes are non-refundable.

No smoking is permitted on-site.
As the temps cool down, the tent heats up– and we have some great concerts coming up this fall as part of our Endless Summer Music Series. Scroll below, do any of them pique your interest? A few of them? ALL OF THEM?


Don't be shy and check out our Endless Summer Season Pass for only $125, which allows you one ticket to EVERY SHOW left under the tent. Yes, each-and-every show at Payomet in North Truro, now through the end of 2022. It's up to a $250 value, don't miss these "second summer" savings and come join the fun!

SEASON PASS: $125



Endless Summer Music Series Lineup 2022*:


Larkin Poe
Fri 9/2

Tom Rush
Sat 9/3

Karan Casey
Mon 9/5
(3pm)

Endless Summer Concert
Sat 9/17 (6pm)

Taj Mahal
Sun 9/18
(3pm)
Fall Equinox Party Fri 9/23 (6pm)
Cowboy Junkies Sat 9/24
David Wax Museum Sat 10/1
Black Joe Lewis & Cedric Burnside Sun 10/2 (3pm)
Ruthie Foster Sat 10/8
Jimmy Tingle Sun 10/9 (5pm)


*All concerts at 7:00pm unless otherwise noted.