James Montgomery Band at Elks Music Hall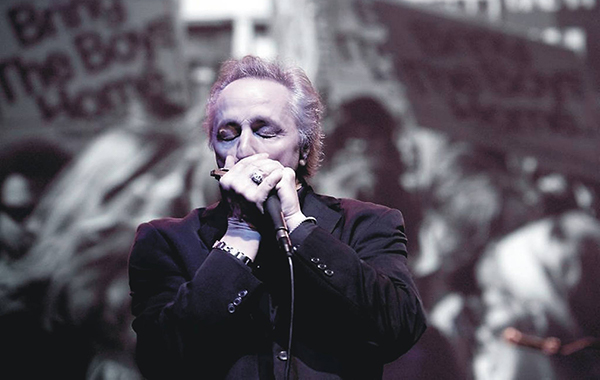 CONCERT GUIDELINES:
By purchasing a ticket, you agree to comply with all health and safety protocols that are in place at the time of the performance. Please check the policies and guidelines prior to your performance for the most up-to-date information.

All tickets are 'Will Call'. You do not need a mobile or printed ticket. Your name will be on a list at the venue and will be checked by a Payomet volunteer or staff member. Doors will open 30 minutes prior to the event.

Tickets are non-refundable.

No smoking is permitted on-site.
EVENT LOCATION:

Elks Music Hall, Eastham

"...the James Montgomery Band is tight and exciting, producing onstage music that is aggressive, yet self controlled" – Rolling Stone

"A studied blues musician and a great entertainer... his music has never failed to interest me since we first met over thirty years ago." - James Cotton

James Montgomery has been an iconic figure in blues music for more than 40 years, as an accomplished blues harpist, singer, frontman, bandleader and composer- and he's taking the stage at the Elk's Music Hall on Saturday, November 5 for a performance as part of

Payomet's Road Show

series.

When blues legend James Montgomery plays the harmonica, he "brings it on home." Whether it's recording with Kid Rock, sitting in with Gregg Allman, or fronting his hot band of thirty years, Montgomery plays with authority. While growing up in Detroit he, learned first-hand from the masters - James Cotton, John Lee Hooker, and Jr. Wells - at the legendary "Chessmate." Over the years, he's carried on in the tradition and continues to be a vital presence in Blues as one of the most dynamic performers on the scene.

In 1970, while attending Boston University, Montgomery formed The James Montgomery Band. His inimitable (oh yeah, he majored in English) harmonica playing combined with his incredibly energetic live shows led to the band's quick ascension on the New England music scene. Within two years, The James Montgomery band was among the hottest acts in Boston along with J. Geils and Aerosmith, and they were quickly signed to a multi-album deal with Capricorn Records.


Montgomery has toured with many major artists, including Aerosmith, Bonnie Raitt, Bruce Springsteen, the Allman Brothers, Steve Miller, and others. He has jammed on stage with B.B.King, Buddy Guy, John Lee Hooker, Jr. Wells, James Cotton, Charlie Daniels, Bonnie Raitt, Greg Allman, Laverne Baker, Patti LaBelle, and Peter Wolf among others, including an impromptu session with Mick Jagger at New York's "Trax."


Tickets: $35-$50 // Members: $30-$45


Get your JAMES MONTGOMERY BAND playlist!


Payomet's programming doesn't cease with summer's end– and when the tent comes down, we take the show on the road. This performance is part of Payomet's Road Show series, which keeps us presenting exciting artists and curating good times all over Cape Cod, all year long. As far as we're concerned, music isn't seasonal and the fun shouldn't be limited to warm weather– so grab a friend and come out for a Payomet Road Show!