C.J. Chenier & The Red Hot Louisiana Band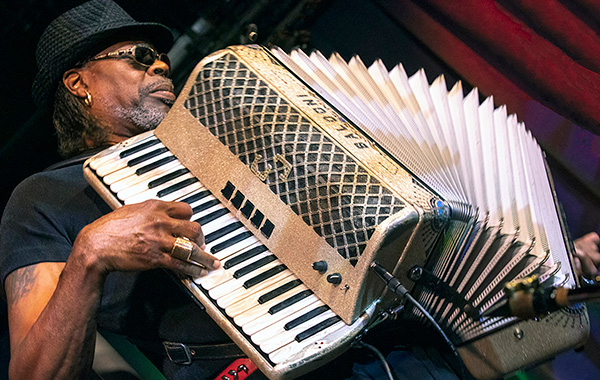 CONCERT GUIDELINES:
All tickets are 'Will Call'. You do not need a mobile or printed ticket. Your name will be on a list at the venue and will be checked by a Payomet volunteer or staff member.
Please arrive no more than 1 hour before the show.
No smoking is permitted on-site.
EVENT LOCATION:

Provincetown Town Hall

"Hard-charging riffs, bluesy shouts in the vocals and a rhythm section that makes two-steps into ratcheting rock." – New York Times

"His vocals and accordion continue to drip with top-line Louisiana hot sauce, keeping the good times rolling with energized adaptations of blues and Creole r&b classics." – Downbeat

C.J. and the Red Hot Louisiana Band are a ready-made party with deep roots in Americana music, and they're headed to Provincetown Town Hall for a

Payomet Road Show

on Saturday, April 15 to deliver the very best in zydeco and blues.

Clayton Joseph "C.J." Chenier is Creole music royalty. His father, the legendary Clifton Chenier, invented the style of music we know today as Zydeco and was the first Creole musician to be recognized with a Grammy Award. Raised in this indigenous American culture with its' own distinctive language, cuisine and music, C.J. delivers soulful vocals along with jaw-dropping masterful accordion-driven Rock, Zydeco and Blues.

Ticket Price: $25-$30 / Members: $22-$27
Day-of-show: $27-$32

Get your CJ CHENIER playlist!



Payomet's programming hits venues across Cape Cod all year long, because in the off-season– we take the show on the road. This performance is part of our Payomet Road Show series, which keeps us bringing you exciting artists and curating good times year-round. We're thrilled to be celebrating our 25th anniversary season, don't miss the fun and join us for this Payomet Road Show!