Cha Wa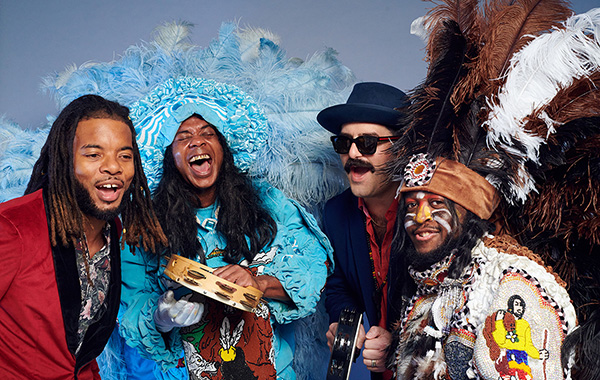 CONCERT GUIDELINES:

All tickets are 'Will Call'. You do not need a mobile or printed ticket. Your name will be on a list at the venue and will be checked by a Payomet volunteer or staff member. Doors will open 1 hour prior to the event.
Note that all tickets are 'General Admission' meaning you are guaranteed a seat within your selected section, however not a specific seat. General Admission seats are first come, first served. Please arrive no earlier than 1 hour before the show.
Tickets are non-refundable.


Payomet is located at Highlands Center at Cape Cod National Seashore. In partnership with the National Park Service, all smoking is prohibited on federal lands.
Outside food and drink are prohibited.
"I've seen the future of New Orleans music and its name is Cha Wa." - Paste Magazine

"Powerful, relatable, vibrant." - NPR All Things Considered

New Orleans brass band-meets-Mardi Gras Indian outfit Cha Wa radiates the energy of the city's street culture– and they're bringing it to Payomet on Sunday, August 20.

"My People" is Cha Wa's follow up to their last Grammy-nominated album– and it feels like pure joy, a distillation of generations of New Orleans expression.

"Mardi Gras Indian songs are inherently songs about freedom," the band's drummer Joe Gelini says. "And that struggle is as relevant today as it's ever been." Popmatters describes the band as "a grand gumbo of singing, intoxicating rhythms, and deep funk grooves that are impossible to resist."

New Orleans culture exists uniquely in time. It treats its musical history with reverence: origins a century old, or more, are always audible in the sounds that define it, from jazz to brass band to Indian music. Yet it constantly welcomes new growth, too– funk and hip-hop and contemporary R&B meld easily with all of its venerated sonic traditions, keeping the city's singular culture vital, vivid and honest.

Their last album is the latest in the catalog of a young band that has always typified this essential part of the character of America's most interesting musical city. It sounds like New Orleans today.

Ticket Price: $30*-$48* // Members: $26-$44

**
*Note that ticket prices may increase day-of-show



**

We love our members! This membership appreciation event is part of our Payomet Pal Performance Series, whereby members are invited to attend free of charge– click here for details and to reserve your spot! Please note that this offer valid for new tickets only.

Get your CHA WA playlist!



This performance is part of Payomet's Open Arms to Open Arts concert series, which seeks to bring music, language and culture of different lands and indigenous peoples into performance spaces on Cape Cod, from the big-top tent to community centers and schools, fostering meaningful engagement between audiences and artists.