Reggae Vibrations: Toussaint the Liberator, Dub Apocalypse and EarthKry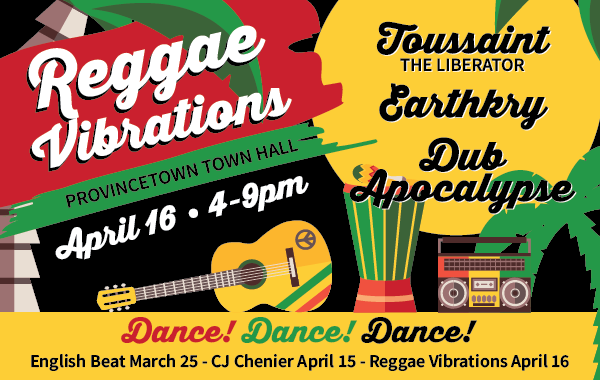 CONCERT GUIDELINES:
All tickets are 'Will Call'. You do not need a mobile or printed ticket. Your name will be on a list at the venue and will be checked by a Payomet volunteer or staff member.
Please arrive no more than 1 hour before the show.
No smoking is permitted on-site.
EVENT LOCATION:

Provincetown Town Hall

The roots reggae music of three bands– Boston's Toussaint the Liberator and

Dub Apocalypse

, and Jamaica's

EarthKry–

are coming together to deliver an evening of warm Reggae Vibrations at Provincetown Town Hall on Sunday, April 16.

Kicking off the afternoon is Toussaint the Liberator, who presence has inspired the Boston music scene with his unique and soulful voice ever since he arrived in the early 2000s. Brought up as the son of a Pastor and Choir Director and blessed with a style and cadence that spans many genres which are deeply rooted in gospel, Toussaint's presence and undeniable charisma, hard hitting and full of grit, gives rise to a velvety sound that lingers in your mind long after the music ends. In a perfect symbiosis with his vocals, he is also masterfully skilled in playing the djembe, which is woven into every performance and gives the audience a glimpse into his meditation with rhythm from his ancestors.

Dub Apocalypse is an instrumental dub reggae band from Boston, MA. The band came together in 2007, led by drummer Tommy Benedetti and guitarist, Johnny Trama. Tommy Benedetti is one of the founding members of American Reggae Pioneers and John Brown's Body, and he brings a wealth of experience from the reggae/dub scene to the table– while Johnny Trama adds a soulful blues touch to the Dub Apocalypse signature sound. This history is combined with almost 2 decades of International touring, as well as backing some of the giants of Jamaican music, including The Meditations and Justin Hinds.

Visiting all the way from Kingston, Jamaica, EarthKry draws inspiration from Bob Marley, The Beatles, John Holt, Peter Tosh, Jacob Miller, Black Uhuru and Steel Pulse, creating a wholesome fusion of Roots Reggae, Souls and Rock genres for a fresh but universal sound. Much like the iconic reggae outfit The Wailers, the band chose its name, EarthKry, to signify its mission to voice the grievances of the downtrodden through the vibrations of their Legacy music.


Ticket Price: $25 / Members: $22


Payomet's programming hits venues across Cape Cod all year long, because in the off-season– we take the show on the road. This performance is part of our Payomet Road Show series, which keeps us bringing you exciting artists and curating good times year-round. We're thrilled to be celebrating our 25th season, don't miss the fun and join us this spring for a Payomet Road Show!