On A Summer's Night ft. John Gorka, Lucy Kaplansky, Patty Larkin and Cliff Eberhardt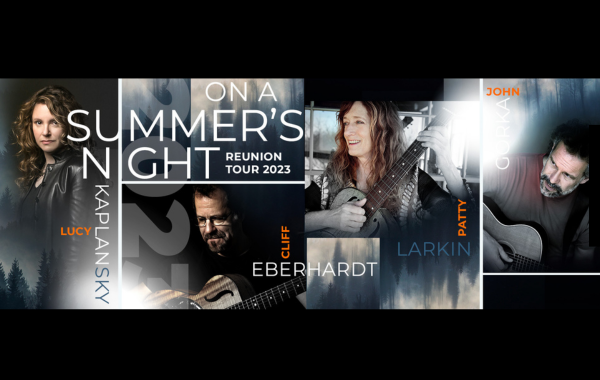 CONCERT GUIDELINES:
All tickets are 'Will Call'. You do not need a mobile or printed ticket. Your name will be on a list at the venue and will be checked by a Payomet volunteer or staff member. Doors will open 1 hour prior to the event.

Note that all tickets are 'General Admission' meaning you are guaranteed a seat within your selected section, however not a specific seat. General Admission seats are first come, first served. Please arrive no earlier than 1 hour before the show.

Tickets are non-refundable.

Payomet is located at Highlands Center at Cape Cod National Seashore. In partnership with the National Park Service, all smoking is prohibited on federal lands.

Outside food and drink are prohibited.
"Wild Perfection. Patty Larkin Transmits with eccentric magic." – Boston Globe

"Eberhardt is better than ever, Steve McQueening his way into your heart …kicking ass with fresh insight." – Philly Rock Guide

"Gorka …the leading singer/songwriter of the New Folk movement." – Rolling Stone

"Kaplansky weaves fragile lives together making even tenuous connections as palpable as flesh and blood." – USA Today

The recent reunion tour of "On A Winter's Night" yelids the warm weather debut of "On A Summer's Night" from veteran singer-songwriters that remain among the brightest stars of the singer/songwriter movement for the past three decades. In 1994 Christine Lavin gathered Cliff Eberhardt, John Gorka, Lucy Kaplansky and Patty Larkin, along with folk and Americana artists to showcase music of the Winter Season on the now-classic On A Winter's Night CD, followed by several years of touring collaborations. These artists have released dozens of recordings and toured steadily through the decades, with fond memories of their touring days together. The winter season is again celebrated by these unique and popular performers, back together by popular demand.

Ticket Price: $35*-$55* // Members: $32-$52
*Note that ticket prices will increase day-of-show


Get your ON A WINTER'S NIGHT playlist!