¡Fiesta Latina! ft. Mireya Ramos, Jorge Glem & OKAN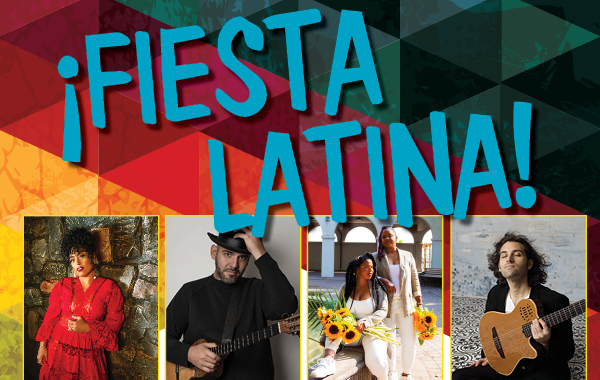 CONCERT GUIDELINES:
All tickets are 'Will Call'. You do not need a mobile or printed ticket. Your name will be on a list at the venue and will be checked by a Payomet volunteer or staff member. Doors will open 1 hour prior to the event.

Note that all tickets are 'General Admission' meaning you are guaranteed a seat within your selected section, however not a specific seat. General Admission seats are first some, first served. Please arrive no earlier than 1 hour before the show.

Tickets are non-refundable.

No smoking is permitted on-site.
¡Fiesta Latina! is Payomet's new festival celebrating the history, diversity and depth of Latin American music. Featuring world-class artists and educational programs at Provincetown IB Schools, this year's Fiesta features artists from Cuba, Venezuela and Puerto Rico (via Mexico and the Dominican Republic).

The music kicks off Saturday, June 3 with Mireya Ramos (Latin Grammy winning vocalist, songwriter and violinist and co-founder of the renowned all-female mariachi group Flor De Toloache), Jorge Glem (Latin Grammy winner and one of the foremost Venezuelan cuatro players in the world) and OKAN (a Juno-Award winning women-led ensemble that fuses Afro-Cuban roots with jazz, folk and global rhythms in songs about immigration, courage and love). All artists will be supported by the Dario Acosta Teich Quintet.

¡FIESTA LATINA! Lineup:
Saturday, June 3 // 7:00pm | Mireya Ramos (PR/DR/México), Jorge Glem (Venezuela), OKAN (Cuba/Canada)

<< Please note that the ¡Fiesta Latina! performance with Pedrito Martinez on Sunday, June 4 has been rescheduled. We will contact all ticketholders with details, or we can be reached at 508-487-5400 or info@payomet.org>>

Tickets: $35-$55**
**

Students and Teachers admitted FREE OF CHARGE as an end-of-the-school-year treat! Registration is not required however if you plan to come, click here to register and let us know!

Get your ¡FIESTA LATINA! playlist!



!Fiesta Latina! is co-curated/produced by Eleanor Dubinsky and Dario Acosta Teich as part of Payomet's Open Arms to Open Arts concert series, which seeks to bring music, language and culture of different lands and indigenous peoples into performance spaces on Cape Cod, from the big-top tent to community centers and schools, fostering meaningful engagement between audiences and artists.