Dom Flemons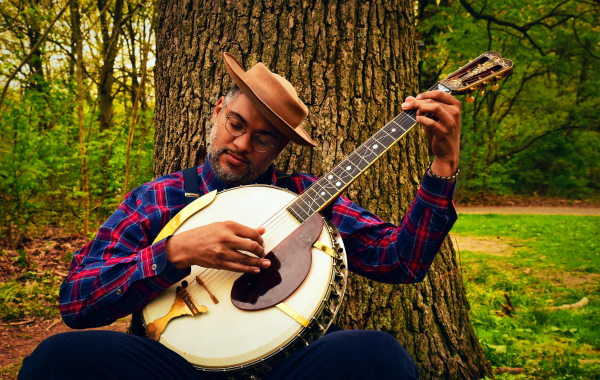 CONCERT GUIDELINES:
All tickets are 'Will Call'. You do not need a mobile or printed ticket. Your name will be on a list at the venue and will be checked by a Payomet volunteer or staff member. Doors will open 1 hour prior to the event.

Note that all tickets are 'General Admission' meaning you are guaranteed a seat within your selected section, however not a specific seat. General Admission seats are first some, first served. Please arrive no earlier than 1 hour before the show.

Tickets are non-refundable.
TWO SHOWS!

Friday, May 12 @ 7:00pm at Thacher Hall, Yarmouth Port
Sunday, May 14 @ 4:00pm at The 204: Cultural Arts Building, Harwich

Resolute preservationist, storyteller, and instrumentalist, Dom Flemons will be back on Cape Cod to perform TWO Payomet Road Shows, Saturday, May 12 @ 7:00pm at Thacher Hall -- and Sunday, May 14 @ 4:00pm at The 204: Cultural Arts Building.

Long set apart by finding forgotten folk songs and making them live again, Flemon's work has been recognized with a GRAMMY, two Emmy nominations, a USA Fellowship Award, and inclusion in an exhibit at the Country Music Hall of Fame and Museum. For Traveling Wildfire, his first new album since 2018's Black Cowboys and second for Smithsonian Folkways, he turns to an important, overlooked voice that he's proudly rediscovered: his own.

Raised in Phoenix, Arizona, Flemons comes from a family of civil rights leaders, Tuskegee Airmen, and preachers who were prominent figures in the Black community of Arizona. His father, a former basketball player and member of the Black fraternity Kappa Alpha Psi, introduced him to classic country music. As a kid listening to local radio, Flemons then learned more about country legends like Hank Williams and Lefty Frizzell. In college, he took an online class on country music history and first heard the music of DeFord Bailey and Charley Pride. That discovery ignited a passion for finding other African American performers with country songs in their repertoire.

After graduating from Northern Arizona University (which presented him with an honorary doctorate in 2022), Flemons moved to North Carolina and co-founded the Carolina Chocolate Drops, a string band of young Black musicians who won a GRAMMY for their 2010 album, Genuine Negro Jig. After leaving the group at the end of 2013, he established a solo career that led him to collaborate with hundreds of artists in the American roots music scene.

Ticket Price: $30/ Members: $27

Get your DOM FLEMONS playlist!



This performance is part of Payomet's Open Arms to Open Arts concert series, which seeks to bring music, language and culture of different lands and indigenous peoples into performance spaces on Cape Cod, from the big-top tent to community centers and schools, fostering meaningful engagement between audiences and artists.