Lez Zeppelin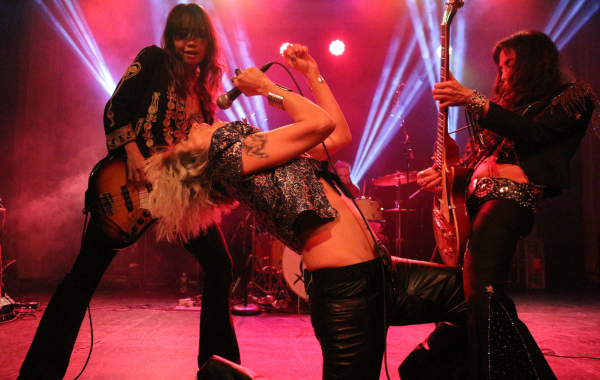 CONCERT GUIDELINES:
All tickets are 'Will Call'. You do not need a mobile or printed ticket. Your name will be on a list at the venue and will be checked by a Payomet volunteer or staff member. Doors will open 1 hour prior to the event.

Note that all tickets are 'General Admission' meaning you are guaranteed a seat within your selected section, however not a specific seat. General Admission seats are first some, first served. Please arrive no earlier than 1 hour before the show.

Tickets are non-refundable.

No smoking is permitted on-site.
EVENT LOCATION: Provincetown Town Hall

"They played the Led Zeppelin music with an extraordinary sensuality and an energy and passion that highlighted their superb musicianship." – Jimmy Page

"There are a few jarring moments when it will feel like the most powerful all-female band in rock history..." – SPIN Magazine

"Strapping on the double-necked Gibson with attitude to burn, this all-girl quartet pays tribute to its swaggering namesake Led Zeppelin, ripping through the catalogue with blazing accuracy." –The New York Times

Come get the LEZ OUT in Provincetown on Saturday, May 27 over Memorial Day weekend with the "she-incarnation" of Led Zeppelin– Lez Zeppelin!

Founded in 2004 by New York guitarist, Steph Paynes, the all-girl quartet, Lez Zeppelin, has since gained unanimous critical acclaim as one of the most exciting live acts around, becoming the first female rock act to pay homage to Led Zeppelin and to garner rave reviews across the board. Lez Zeppelin stays true to the musically audacious spirit of the original, delivering the legendary rock band's blistering arrangements and monstrous sound note-for-note at sold-out frenzied shows around the world. In June, 2013, Jimmy Page attended their show in London and said of the group, "They played the Led Zeppelin music with an extraordinary sensuality and an energy and passion that highlighted their superb musicianship."

The thing that sets Lez Zeppelin apart is the seamless and unique way they inject their gender-bending performance into the original material. They have been featured on major television including the BBC, CNN, ABC, CBS, MTV, VH-1, FOX and radio shows worldwide, such as Sirius XM and NPR.

Since Lez Zeppelin's formation, the group has broken both glass and class ceilings. Whether it's playing on catwalk above Times Square for 40,000, or on the main stage at Bonnaroo, Hellfest and the Isle of Wight; flying to India for a benefit concert for ambulances or taking the stage – twice! -- at Madison Square Garden, it's clear that the unique power, personality and magical force of Lez Zeppelin is far beyond that of a "tribute" act.

For those skeptics who still dare to ask: Can four women pull off the exuberant, powerful and musically intricate performances for which Led Zeppelin are known, a Lez Zeppelin show is nothing short of a revelation.

Lez Zeppelin will be joined by special guest opener, Erin McKeown.

Ticket Price: $25*-$40* // Members: $22-$35
*Note that ticket prices may increase day-of-show


Get your LEZ ZEPPELIN playlist!