Carolyn Wonderland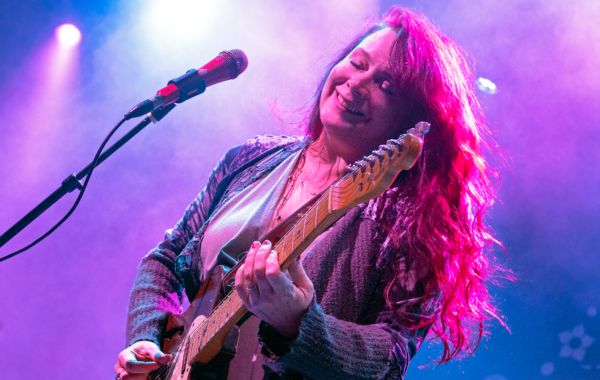 CONCERT GUIDELINES:
All tickets are 'Will Call'. You do not need a mobile or printed ticket. Your name will be on a list at the venue and will be checked by a Payomet volunteer or staff member. Doors will open 1 hour prior to the event.

Note that all tickets are 'General Admission' meaning you are guaranteed a seat within your selected section, however not a specific seat. General Admission seats are first some, first served. Please arrive no earlier than 1 hour before the show.

Tickets are non-refundable.

No smoking is permitted on-site.
TICKETS ON SALE NOW!

"Mighty and joyous rock-injected blues...luxurious vocals and fine guitar work. Her voice is as muscular as her name is evocative." –Austin Chronicle

"Carolyn Wonderland is the real deal. She's an amazing guitar player. And damn, can she sing." –Los Angeles Times

"With incendiary guitar chops and raw, powerful vocals, fiery Texas blues rocker Carolyn Wonderland draws instant comparisons to fellow Texans Stevie Ray Vaughan and Janis Joplin." –NPR Music

"Hey, have you heard Carolyn Wonderland? She's something else. She should be nationwide." –Bob Dylan, talking to Asleep At The Wheel's Ray Benson

Incredible and powerful blues vocalist and guitarist Carolyn Wonderland is headed to the tent on Monday, September 4 for a matinee to close out Labor Day weekend.

"The more guitar you play, the more you sing, the better you get," says award-winning Texas guitar slinger, singer, songwriter, and multi-instrumentalist Carolyn Wonderland. Since performing her first professional gig at age 15, she's never stopped singing and making music. Her music includes a bold mix of timeless original songs and reinventions of some of her favorites, ranging from blistering electric blues to deep, heartfelt ballads to cosmic country to soulful Tex-Mex. Every song is fueled by Wonderland's forceful yet melodic Texas-flavored guitar work and her full-throated, heart-on-her-sleeve vocals. She's recorded ten previous albums under her own name, including four produced by famed musician Ray Benson, founder of multiple Grammy-winning band Asleep At The Wheel. Wonderland, who spent the last three years as lead guitarist in John Mayall's Blues Breakers, now joins the Alligator Records family as the first female guitar hero in the label's storied 50-year history. Her spine-chilling, soul-deep singing matches her guitar prowess note for note. And she has a knack for writing songs that sound like instant classics. Her Alligator Records debut, the Dave Alvin-produced Tempting Fate, is the next chapter in Wonderland's remarkable story, one that is already overflowing with countless and colorful once-in-a-lifetime experiences.

Ticket Price: $25*-$45* // Members: $22-$40
*Note that ticket prices may increase day-of-show


Get your CAROLYN WONDERLAND playlist!