The Rascals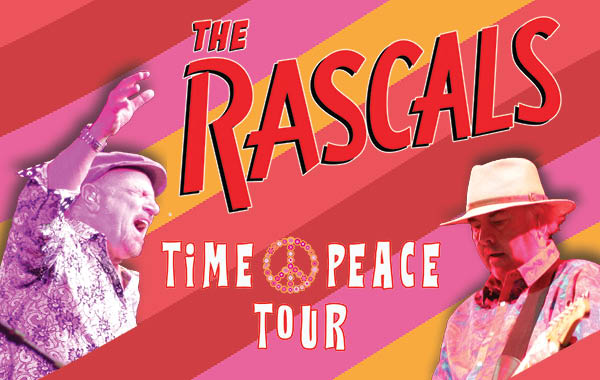 CONCERT GUIDELINES:
All tickets are 'Will Call'. You do not need a mobile or printed ticket. Your name will be on a list at the venue and will be checked by a Payomet volunteer or staff member. Doors will open 1 hour prior to the event.

Note that all tickets are 'General Admission' meaning you are guaranteed a seat within your selected section, however not a specific seat. General Admission seats are first come, first served. Please arrive no earlier than 1 hour before the show.

Tickets are non-refundable.

Payomet is located at Highlands Center at Cape Cod National Seashore. In partnership with the National Park Service, all smoking is prohibited on federal lands.

Outside food and drink are prohibited.
"Like a number of legendary bands from the 1960s, The Rascals' time in the spotlight was short and sweet. But [...] the quartet's moment-in-the sun was highly inspiring" – Time Magazine

"Now, as elder statesmen [...] Cavaliere and Cornish still have plenty in the tank to put on a show worth checking out." – Goldmine Magazine

Iconic 70's rock band, The Rascals are returning to the stage, and they're paying a visit to the Payomet tent on Saturday, October 7.

The next chapter of The Rascals is about to begin – two of the founders of the legendary rock 'n' roll band are once again taking to the stage to continue their legacy that started 57 years ago. With No. 1 songs like "Good Lovin'", "Groovin'", "A Beautiful Morning", "I've Been Lonely Too Long", "People Got To Be Free" and "How Can I Be Sure", The Rascals are considered the best 'blue-eyed soul' group to come out of the 1960s. Lead singer/songwriter and organist Felix Cavaliere and lead guitarist Gene Cornish, Rock & Roll Hall of Fame Inductees, Grammy Hall of Fame, Vocal Group Hall of Fame and Songwriter Hall of Fame members, hit the stage this November for the first time since 2018. With time comes peace of mind knowing that their collection of songs endure, The Rascals Featuring Felix Cavaliere & Gene Cornish Time Peace Tour kicks off November 11, in Staten Island, N.Y.

Ticket Price: $55*-$95* // Members: $50-$90
*Note that ticket prices may increase day-of-show


Get your THE RASCALS playlist!