Animal Liberation Orchestra – ALO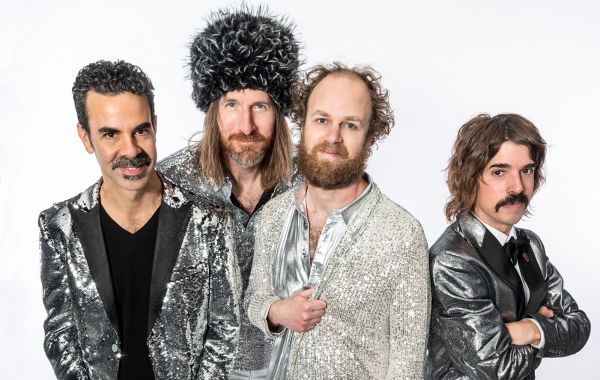 CONCERT GUIDELINES:
All tickets are 'Will Call'. You do not need a mobile or printed ticket. Your name will be on a list at the venue and will be checked by a Payomet volunteer or staff member. Doors will open 1 hour prior to the event.

Note that all tickets are 'General Admission' meaning you are guaranteed a seat within your selected section, however not a specific seat. General Admission seats are first come, first served. Please arrive no earlier than 1 hour before the show.

Tickets are non-refundable.

Payomet is located at Highlands Center at Cape Cod National Seashore. In partnership with the National Park Service, all smoking is prohibited on federal lands.

Outside food and drink are prohibited.

No smoking is permitted on-site.
"After twenty-five years of ALO, We should all hope that there's another thirty ahead because, and at the risk of sounding hackneyed, this band is just getting started and putting out some of their best music yet." – Glide Magazine

"Drawing from their training in the classics, jazz, pop and funk, the four members of Animal Liberation Orchestra strive to make creative, upbeat, ever-evolving music. Their feel-good California vibe and their quirky, engaging live shows have made ALO a rising star in jam-band circles." – NPR

ALO stands for Animal Liberation Orchestra - because music liberates the inner animal, of course. As liberated as they come, Zach Gill, Dan "Lebo" Lebowitz, and Steve Adams have certainly been at this a long time. The trio met while still pre-teens, where they quickly connected through their love of music.

In junior high, they got the idea to put together a band for their eighth-grade talent show. And the rest is history, but history is always a crooked path. You end up where you belong, but the journey is never quite what you expected when you took the first step. Twenty five years in, Gill (keyboards/vocals), Lebo (guitar/vocals), Adams (bass, vocals) and newest addition, Bay Area drum legend-in-training Ezra Lipp (drums, vocals), have recorded their greatest work to date. Quite simply, this is what happens when a band doesn't break up – the culmination of a lifetime of shared effort and camaraderie, four master collaborators at the peak of their craft with nothing left to prove, a near-telepathic cohesion.

These guys have played with everybody. From royalty like Phil Lesh and members of the Grateful Dead to So Cal surf-troubadour Jack Johnson. If the show happened in California, you'll almost always find one of them in the corner of the shot and, sometimes, even in the center.

ALO call their music "jam-pop," and the description is apt - meticulously-crafted/accessibly-hooky compositions laced with improvisational departures, in which the band melds into a single organism in voice and consciousness. They're always exploring, but never wandering. There is always intention, momentum, and a patience and confidence that can only be wrought from a quarter century of collaboration and water under the bridge.

Ticket Price: $28*-$50* // Members: $25-$45
*Note that ticket prices will increase day-of-show


Get your ALO playlist!