The Wayne Martin Puppets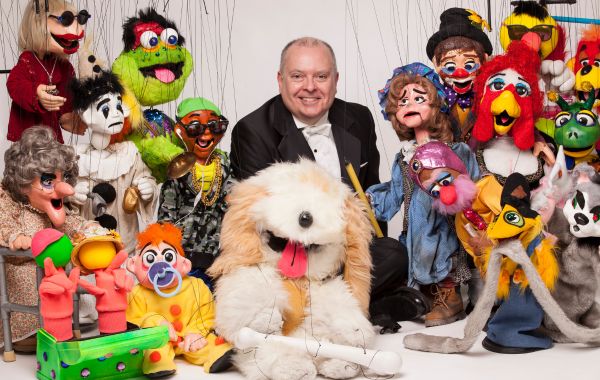 CONCERT GUIDELINES:
All tickets are 'Will Call'. You do not need a mobile or printed ticket. Your name will be on a list at the venue and will be checked by a Payomet volunteer or staff member.

Note that all tickets are 'General Admission' meaning you are guaranteed a seat within your selected section, however not a specific seat. General Admission seats are first come, first served. Please arrive no earlier than 30 minutes before the show.

Tickets are non-refundable.

Payomet is located at Highlands Center at Cape Cod National Seashore. In partnership with the National Park Service, all smoking is prohibited on federal lands.

Outside food and drink are prohibited.

No smoking is permitted on-site.
A high-energy, fast paced cabaret style family variety show with The Wayne Martin Puppets are coming as part of Payomet's Friday Family Fun series on Friday, August 25 at 10:00am.

The Wayne Martin Puppets combine the ancient art form of puppetry with a sensory overload of color, music and roller coaster pacing that introduces today's TV generation to the excitement of live performance.

Complete with a cast of beautifully crafted and costumed "large-scale" hand puppets and marionettes, Wayne Martin uses parody, mime, dance, mask and musical theatre in presenting his various styles of puppetry. Full of comedy and pathos, vignettes of human emotions and fantasy are set against a backdrop of dramatic lighting and theatrical effects, designed to have no age or language barrier.

Traditional and original trick and stringing concepts bring to life a vibrant collection of characters. Making appearances in various productions are jazz trumpeter Slider Bullfrog, Zealand "The Bone Juggling" Sheepdog, Ross "The Balloon Blowing" Pierrot, Diva "Classical Clara" (with her baby chick), Rocky Ape on trapeze, Baby Bernie, and the "Grand Turk" magician, to name just a few of Wayne Martin's two thousand puppet creations!

Ticket Price: $10*

*FREE ADMISSION for Cape Cod Residents! Please bring an ID showing your local address, and attend as our guest. If you plan on coming let us know and click here to register.