Juggling (Ages 7+)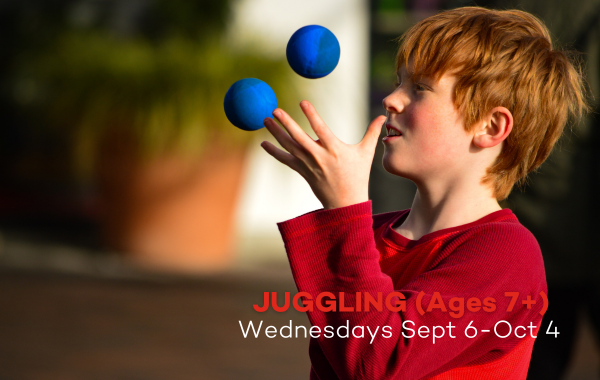 CLASS DETAILS:
You do not need a mobile or printed ticket. Your name will be on a list at the venue and will be checked by a Payomet volunteer or staff member.

Tickets are non-refundable.
EVENT LOCATION: Wellfleet Harbor Actors Theater

Juggling (Ages 7+)
Wednesdays Sept 6-Oct 4 (5 classes) // 4:30-5:25pm
Ages 7+ // $20 drop in

Come try your hand at juggling! In this class, beginners will learn the basics of juggling three-ball juggling, various methods to juggle with other people, and the fundamentals for learning more tricks. More experienced students will learn more complicated three-ball patterns, how to juggle four balls, club juggling, partner juggling, and passing. Students will also be introduced to juggling-related skills like diabolo, devil sticks, box juggling, balancing, and other forms of manipulation. Instruction is customized to each individual's level and interests.

**Please note that classes may be canceled or shortened based on enrollment. If only one person signs up you will have the option to receive a refund, credit for another day, or to do a 30 minute private lesson. Enrollment for classes closes 2 hours before the class begins, so please plan ahead.

Private and semi-private lessons available in a variety of disciplines including juggling, aerial silks, trapeze, lyra, tumbling, and acrobatics. Contact circus@payomet.org for more information.