Performance Youth Troupe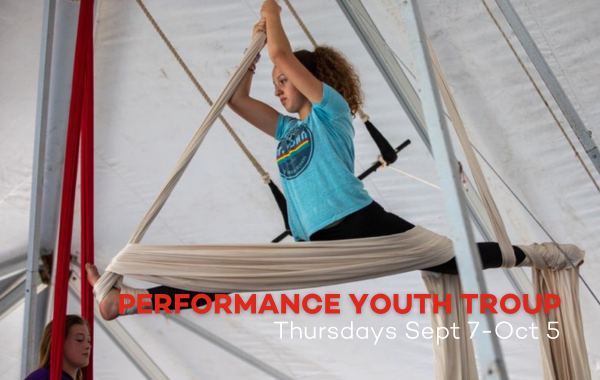 CLASS DETAILS:
You do not need a mobile or printed ticket. Your name will be on a list at the venue and will be checked by a Payomet volunteer or staff member.

Tickets are non-refundable.
EVENT LOCATION: Wellfleet Harbor Actors Theater

Performance Youth Troupe
Thursday Sept 7-Oct 5 (5 classes) // 4:30-5:25pm
Ages 7-18 // $20 drop in

**Invite or application only

Youth Troupe is intended to provide a broad education in the circus arts. It is the next step for developing circus artists who aspire to more than casual, recreational learning. Emphasis is placed on developing the fundamentals of flexibility, strength, coordination, and creativity, in addition to a broad range of circus-specific skills. The group-training format allows students to learn collaboratively and develop the teamwork needed for ensemble performances.

**Please note that classes may be canceled or shortened based on enrollment. If only one person signs up you will have the option to receive a refund, credit for another day, or to do a 30 minute private lesson. Enrollment for classes closes 2 hours before the class begins, so please plan ahead.

Private and semi-private lessons available in a variety of disciplines including aerial silks, trapeze, lyra, tumbling, and acrobatics. Contact circus@payomet.org for more information.