Kongero in Yarmouth Port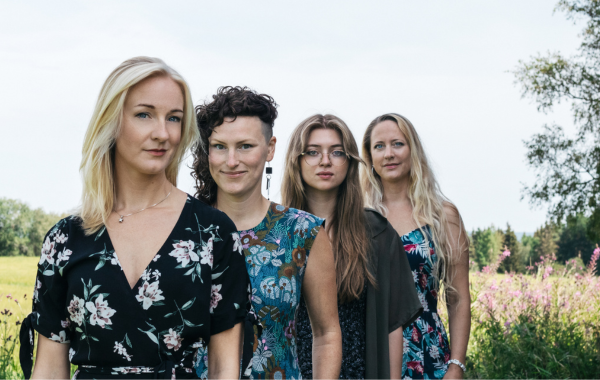 CONCERT GUIDELINES:
All tickets are 'Will Call'. You do not need a mobile or printed ticket. Your name will be on a list at the venue and will be checked by a Payomet volunteer or staff member. Doors will open 1 hour prior to the event.

Note that all tickets are 'General Admission' meaning you are guaranteed a seat within your selected section, however not a specific seat. General Admission seats are first come, first served. Please arrive no earlier than 1 hour before the show.

Tickets are non-refundable.
EVENT LOCATION: Thacher Hall, Yarmouth Port

"The harmonies are effortlessly natural, the voices all gorgeously clear, and the arrangements deliciously complex." – Singout Magazine

"There are a capella groups, and then there's Kongero. The quartet of Swedish women create wonderfully crisp, pure music... On a mix of traditional and self-composed pieces, they shine with a crystalline brilliance." – RootsWorld

Kongero is a highly esteemed, world touring Swedish Folk'appella group singing powerful, evocative, haunting music– and they'll be performing at Thacher Hall on Tuesday, December 12. This concert was curated in collaboration with Paul "DJ Pablo" Greenspan of Global Grooves radio on WOMR, as part of a new Global Roots Music Series.

Pushing the boundaries in trad/folk/world music as well as in a cappella and chamber music, a concert with Kongero will take the listener on an all-embracing Scandinavian music experience.

Each member of Kongero share the same passion, the same goal: to bring the traditional Nordic vocal music to a larger audience, take it from the past into the present, and to explore all possibilities of the human voice. They also feel it's important to share their passion with others through workshops and master classes as well as performances– and feel that to share is to gain something new, and by sharing their traditions, knowledges, in return they receive abundant positive energy, love, and powerful musical experiences.

Ticket Price: $20*-$25* // Members: $18-$20
*Note that ticket prices may increase day-of-show

This performance is part of Payomet's Open Arms to Open Arts Initiative, featuring programming that brings music, language and culture of different lands and indigenous peoples into performance spaces across Cape Cod– from the big-top tent to community centers, and schools– to foster meaningful connections between audiences and artists.


Get your KONGERO playlist!



Payomet's programming doesn't cease with summer's end– because when the tent comes down, we take the show on the road. Payomet Road Shows keep us presenting exciting artists and curating good times all over Cape Cod, all year long. Live music isn't just for summer– so grab a friend and come out for a Payomet Road Show!