Remembrances of the North Truro Air Force Radar Station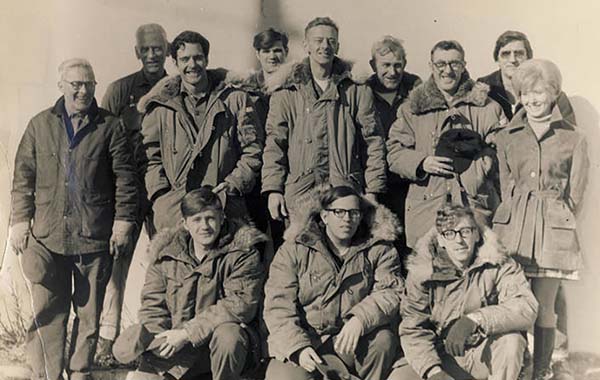 EVENT GUIDELINES:
As of 10/7/21 the town of Wellfleet has reinstated an indoor mask mandate in public spaces. At this time all event attendees must wear a mask unless actively eating or drinking.
For the health, safety, and well-being of our patrons, staff, volunteers, and artists, WPH requires that individuals age 12+ must be vaccinated against COVID-19 or provide a negative COVID test taken within 72 hours of the event.
Patrons must present proof that they are fully vaccinated against COVID-19, either in the form of a physical vaccination card or a photo of the card OR present proof of a negative Covid test taken within 72-hours of the event. Photos can be submitted in advance to payometpac@gmail.com
All tickets are 'Will Call'. You do not need a mobile or printed ticket. Your name will be on the manifest at the venue and will be checked by a Payomet volunteer or staff member.
EVENT LOCATION: Wellfleet Preservation Hall

Our Nov. 12 presentation is booked to capacity. We are offering another presentation on Friday, Dec. 10 at the Truro Community Center. Pre-register here.

Part of an on-going Payomet series, our next "Remembrances of the North Truro Air Force Radar Station" program will be co-sponsored by the Cape Cod National Seashore on Friday, November 12 at Wellfleet Preservation Hall, in commemoration of Veterans Day. Aleutia Scott of the Cape Cod National Seashore and Dan Lombardo of Payomet will host.

"Remembrances" will feature a showing of Rebecca M. Alvin's documentary film, Out of Service: A Cold War Memory. Alvin will introduce her film and answer questions. Special guests will include airmen who were stationed there, family members who grew up as part of the Air Force Station family, and others. Come learn more about this important piece of Truro, Cape Cod, and national history.

This special event will welcome:
Audrey Sherwin Parent, daughter of NTAFS Commander John Sherwin.
Laura Canterbury Parker, daughter of NTAFS airman John Franklin Canterbury; at this time she will also be donating to CCNS her album of photos taken during the decommissioning ceremonies at NTAFS, including the playbill for "North Truro AFS 'Farewell & Appreciation' Ceremony," June 14, 1985.
Denise Ilkovich, daughter of John Doepper, who worked on Texas Tower #2.
John Doucette, served at NTAFS for 6 years, in Air Force 1949-1969.

From 1951 to 1985, the North Truro Air Force Station scanned the skies to "Detect, Identify, Intercept, and Destroy" bombers carrying nuclear weapons from the Soviet Union. Its 90 buildings housed a staff of as many as 500, plus a power plant, desalinization unit, reinforced blockhouse in case of nuclear attack, a chapel, movie house, and bowling alley. After being decommissioned in 1985, the site was eventually transferred to the Cape Cod National Seashore. The Payomet Performing Arts Center has hosted performances on the site since 2006.